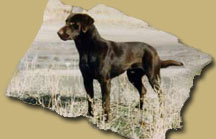 GMPR CAJUN OF BLACK FOREST MH, WAS OWNED AT ONE TIME BY DELERY GUILLORY. CAJUN WAS ONE OF HERSHEY'S FIRST OFFSPRING TO TRAIN FOR HUNT TESTS AND AT A VERY EARLY AGE, GOT HIS GRAND MASTER TITLE. CAJUN FINISHED HIS APLA TITLES AND HIS AKC MASTER HUNTER AND THEN RAN LITERALLY DOZENS AND DOZENS OF UPLAND HUNTING COMPETITIONS, RARELY GOING WITHOUT PLACING AND ACCRUING OVER 30 WINS, WHICH DELERY PROUDLY DISPLAYED OVER THE WALLS OF HIS OFFICE AT THE KENNEL. WHEN CAJUN RAN WITH HIS KENNEL MATE, LISTED BELOW, THEY SET A NEW STANDARD FOR THE APLA MASTER LEVEL TESTS. THE DIFFICULTY OF THE RETRIEVER SETUPS WAS RAISED SIGNIFICANTLY, REQUIRING FAR GREATER TRAINING FOR THE DOGS TO PASS THE TESTS. AS HERSHEY AND THE SON OF HERSHEY CONTINUED TO GARNER ATTENTION AND CHAMPIONSHIPS IN THE UPLAND AND WATERFOWL WORLD, THE BELIEF AND INTEREST IN THE POINTING LABS GREW BY LEAPS AND BOUNDS. AMONGST A FEW OTHER DOGS, THESE DOGS CHANGED THE FACE OF POINTING DOGS AND RETRIEVERS IN THE HUNTING COMMUNITY AND AS MENTIONED WITH HERSHEY, CAJUN IS FOUND IN THE VAST MAJORITY OF CHOCOLATE AND CHOCOLATE FACTORED DOGS IN THE POINTING LAB COMMUNITY TODAY. JUST AS IT WAS WITH HIS FATHER HERSHEY, CAJUN RAISED PUPPIES, KITTENS, AND BABY HUMANS AS HE WENT THROUGH HIS TRAINING AND COMPETITIVE YEARS, ALWAYS A GENTLE GIANT AMONG HUNTING DOGS. CAJUN HAS ALSO PRODUCED MULTIPLE GMPR'S, AKC MH'S, HRCH'S AND QUALIFIED ALL-AGE FIELD TRIAL DOGS.
CAJUN IS A STRONG, 70 POUND DARK CHOCOLATE MALE. HIS DESIRE MAKES HIM ONE OF THE BEST POINTING LABRADOR RIN BLACK FOREST'S KENNEL. HE IS ONE OF THE MOST GENTLE, LOVING LABRADORS YOU WILL FIND, UNTIL IT IS TIME TO HUNT. HE HAS BEEN DESCRIBED AS A HUNTING MACHINE. HE HAS A STAUNCH POINT ALONG WITH A PERFECT RETRIEVE. HE IS FOLLOWING IN HIS FATHER'S FOOTSTEPS, CP, MPR, GMPR SIR HERSHEY.
CAJUN WON 4 TITLES AT JUST 2 YEARS OLD—A COLORADO STATE PHEASANT CHAMPIONSHIP AND NUMEROUS OTHER TRIAL WINS. HE WAS ONE OF THE YOUNGEST MALE DOGS TO ACHIEVE BOTH APLA MASTER POINTING RETRIEVER TITLE (13 MONTHS) AND GRAND MASTER POINTING RETRIEVER TITLE (20 MONTHS). CAJUN HAS CONSISTENTLY PLACED IN THE TOP THREE IN 21 COMPETITIONS—12 OF WHICH WERE FIRST PLACE WINS, COMPETING AGAINST THE TRADITIONAL POINTING BREEDS. CAJUN WON THE 2000 COLORADO STATE PHEASANT CHAMPIONSHIP IN THE OPEN POINTER DIVISION. HE HAS BEEN THE TOP QUALIFIER FOR THE NATIONAL HUNTING DOG CHAMPIONSHIP, WINNING BOTH QUALIFYING RUNS THAT HE PARTICIPATED IN.
CAJUN PASSED AWAY IN FEBRUARY, 2004. HE WAS ONE OF THE BEST ALL TIME POINTING LABRADOR THERE WAS. HIS DESIRE TO HUNT IN THE FIELD WAS UNMATCHED. WHEN CAJUN WAS NOT HUNTING HE WAS THE MOST GENTLE, LOVING DOG A PERSON COULD OWN. WORDS CAN NOT DESCRIBE CAJUN'S LIFE. FOR THOSE OF US THAT HAD THE PRIVILEGE OF EXPERIENCING HIS ABILITIES WILL NEVER FORGET WHAT A DOG CAN DO. HE IS THE BENCHMARK OF ALL POINTING LABRADORS.