"MAE"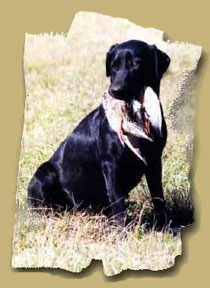 Mae is Black Forest Kennel's 5th Grand Master Pointing Retriever.  She is a Black Forest bred dog.  Her parents, Gumbo of Black Forest and Miss Dixie of Black Forest are both owned by Bearpoint Kennel and Black Forest Kennel.  She is a perfect example of the direction of our future-breeding program.
Mae is currently working towards her AKC Master Hunting title.  In addition, in 1998 she won her first ever hunting competition, with a first place in the Valhalla Top Gun, she followed with a 1st in the Rocky Mountain Upland Championship, a 2nd in the State Pheasant Shoot, a 2nd in the Valhalla One Box Quail Hunt.
Mae's strong desire has made her a true enjoyment to hunt over.  She has the proven ability on both upland birds and on migratory birds as well.
Mae is a beautiful, black female, weighing approximately 55 pounds. She has a staunch natural point like her father, with outstanding marking ability.